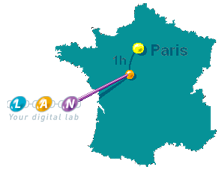 Event location
Laboratoire des Applications Numériques
165 Rue Yves Chauvin
Node Park Touraine
37310 TAUXIGNY - FRANCE
Transportation
Train :
Car :
A bus shuttle will pick up people in front of the hotels to get the Laboratoire des Applications Numériques on the morning and will take them back to their hotels on the evening.
Visa
Please take all the necessary dispositions for your travel in FRANCE, especially regarding your passport and your visa.
Please check with your local consulate to get the most accurate information about obtaining a Visa for your specific country.
If you will be needed an official invitation letter for your visa, please contact contact@lanpark.eu, with the keyword XGS-PON test event in the subject field or by phone at +33 2 47 43 25 00.
Hotel reservation
We arrange with the NOVOTEL to reserve a share of rooms from the 24th to the 30th of June.
This hotel is located in the center of Tours (close to the Tours Centre station).
Reservation instructions:
To reserve a room, please contact:
NOVOTEL Tours Center
15 Rue Edouard Vaillant
37000 TOURS
Tel. +33 2 47 31 12 12
Or by Email at ha312@accor.com
In order to be honoured by the discounted room rate, please let them know when booking your room that you are with the FSAN/LAN group (keyword: "FSAN/LAN").
Discount Rate:
120 € Single – 130 € Double, inclusive of breakfast.

To be guaranteed this special rate, reservations must be made by May 25th, 2018 the latest. Please note that the number of pre-reserved rooms is limited. So we strongly encourage you to book your room as soon as possible.
Distance to Hotels :
Taxis are stationed in front of each station.
For any help, please contact:
contact@lanpark.eu , with the keyword XGS-PON test event in the subject field,
or by phone at +33 2 47 43 25 00